New to the Club Haus Am Brill this Spring, I will be doing two days of Japanese Facial Massage!!!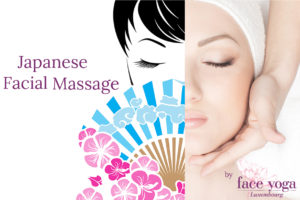 Dating back to the 15th Century as a way to prolong a youthful appearance,the Japanese Facial Massage combines rhythmic touch and the stimulation of the meridians to purify, hydrate and energize the face.
It's a natural face-lifting that:
*Repairs and Rejuvenates sagging skin
*Restores skin radiance and elasticity
*Reduces the depth of wrinkles
*Diminishes the effects of stress
*Causes deep relaxation
This massage benefits all types of skin, young and mature, for both men and women. Not recommended in the case of dermatitis, recent wounds , scars, or bruising.
Where : Club Haus Am Brill, Capellen
When : Tuesday, May 7th & Tuesday, June 11th  – between the hours of 10h – 13h30
Price : 65 Euros for a 50 minute massage
To book your massage please telephone the Club Haus Am Brill : 30 00 01