Mother Nature gave me small downward-turned eyes. But being a firm believer in the Face Yoga Method, I know I can battle gravity & droopy eyelids, correct my asymmetries, open up the gaze, AND improve the under-eye area to boot!
Summer Goal N°1 was : Work the Eye Area.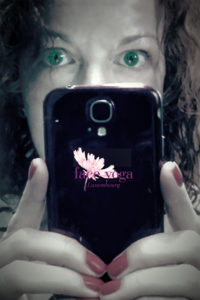 I'm also a victim of Presbyopia,"middle-age" or "old-age" sight. That pesky, gradual loss of nearsightedness. Noticing a greater dependence on my reading glasses for more than just reading, I started investigating ways to improve and/or reverse this process naturally.
Summer Goal N°2 was : Explore Yogic Eye Exercises
Summer goal N°3 was master Crow Pose. Well, that one…..
Yes. Summer is cool – less work & commitments. But Summer is also chaotic – vacations & visits, training, outdoor work and organizing for Autumn.
Fortunately my Face Yoga exercises are so anchored in my daily habits that I didn't have to create a routine, just customize my existing one. (No excuses guys. Nothing is stopping you from creating YOUR own routine.)
With Face Yoga, opening the eyes wide, without wrinkling the forehead and squinting with the lower part of the ring-eye muscle are two integral movements. But I concentrated instead on Visualizing, Isolating & Moving just the upper part of the ring-eye muscle. Think raising one eyebrow, keeping the forehead relaxed. Not easy. I know!
I combined that with the famous squint while lifting the crow's feet area, and circular and "V"-shaped yogic eye movements using my hands to encourage the eye muscles upwards. Hands help the muscles remember where I want them to go! And I massaged regularly from the brow upwards, around the eyes, and under the eyes to train & relax the muscles, drain fluids AND stimulate collagen & elastin production.
I also added Swinging into my upper body warm-up. Swinging consists of, well, swinging the body from side to side from the torso, first with the eyes open to focus rapidly on what is on each side of you, then with eyes closed, so the eyes will "remember" what you saw on each side.
Research taught me that our eyes need natural light to stimulate the rods & cones and decrease photo sensitivity, (You'll squint less too, helping to reduce the 11 lines between the brows.) So I started Sunning*.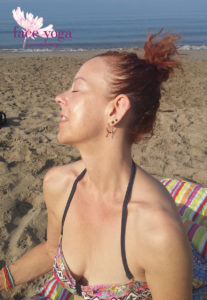 When Sunning*, we, very basically, face a light source with our eyes closed and turn our head from side to side for 30 seconds to 10 minutes or so as is comfortable. Never look directly at the sun!
I also learned our eyes need darkness to recuperate. So we follow Sunning* with Palming*, by cupping our hands over the eyes to block out all the light, breathing deeply, for the same amount of time. You can tilt your head 90° for a neck stretch or repeat affirmations if you like.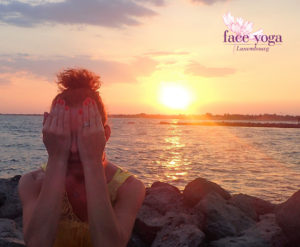 *But please, do some research on your own before practicing. I am not an expert in eye care, and you want to be informed before beginning any type of exercise.
My days included Face Yoga exercises whenever I had a moment and more massage-based movements, and eye circles before bed.
Actually all the "exercises" I did, though they seem stimulating, have relaxing effects on the eye. While we improve and lift the eye area, this dynamic relaxation is key to improving vision as well.
Two months later, I am satisfied with the results. I have less dark circles, more control over my eye movements, and a greater awareness to relax my brows.

I'll never have Bette Davis Eyes and that's OK.
My vision? It's way to early to tell. I've got a lot more work & research to do. Stay tuned for the next installment of M(eye) Adventure.
If you have questions concerning Face Yoga Eye Exercises feel free to contact me :
kimfaceyogaluxembourg.com.
You can also check out my Quick Eye Area Workout Video here.