Smiling is an instant-anti-aging tool.
Doesn't that make you want to smile already ?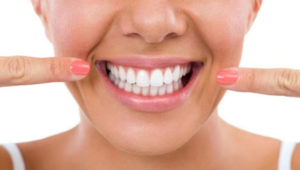 This simple movement is often considered the most powerful gesture. Because it works on a feedback loop with your brain. When our brains are stimulated to feel good, they send a signal to smile. When we smile, we send a signal to the brain that stimulates it to feel good. It's a virtuous circle – of Happiness.
Smiling is an expression of joy and plays a role in social interaction. People who smile more often are perceived as being both younger and more attractive.
Unfortunately, with age, things like tooth and gum problems, loss of bone mass, and reduction of collagen (to name a few) can affect the broadness of our smile. We stress and get in the (bad) habit of letting the corners of our mouth sag. It becomes the norm for our face muscles to droop.
Also when we forget about just HOW we smile, we develops different types of lines around the mouth and in the nasolabial area.
Start with identification. Notice the times during the day (activities, thoughts, feelings) when you are letting gravity pull the mouth down. Then CONSCIOUSLY remind yourself to lift those corners ! Do this as often as possible. It really helps.

Add in Face Yoga exercises to strengthen the cheek muscles and exercises that hold the mouth in one position. You will purposefully work towards reversing your habits and make grinning the norm. The action of the exercises will also center the jawline and lift and prevent sagging jowls
Don't like your smile ? Change it.
Yes. It's possible.
With Face Yoga you'll also identify which muscles you are using. You may need to relax certain muscles or re-train them, or use others. You can even create a more symmetrical smile or correct a gummy one. Other exercises plump and color the lips. With regular practice, you can get more lasting results .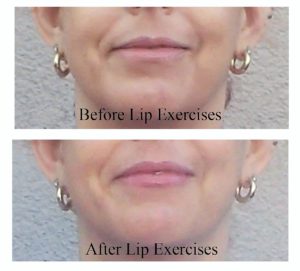 Ask yourself, "How do I want to smile?"
Face Yoga can help you achieve that.
Our mouths not only show our age, but also our emotions. Smiling is not just mechanical movement. Think of all the different types of smiles out there – the closed-lip smile, the sweet smile, the flirtatious smile, the smug smile, the "botox" smile, the naughty smile, the forced smile, the know-it-all smile… But nothing can replace a sparkly-eyed, lit-up face, ear-to-ear, genuine S. M. I. L. E.
Even if it causes a few laugh lines around the eyes.