In the past two weeks we celebrated Valentine's Day, and here in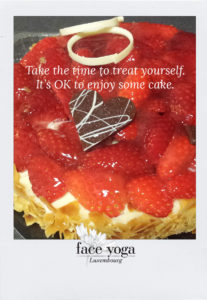 Luxembourg, both Carnival and Buergbrennen (sipping mulled wine and hot soup around a huge bonfire to Burn Away Winter). They're all holidays full of fun and mischief and fiery emotions and love.
You may be thinking, "Celebrate Valentine's Day? Fun? I don't even have a sweetheart." But you are wrong. You have Yourself!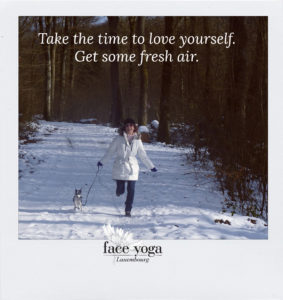 So during this time, I didn't post much about the facial exercises. I wanted to remind everyone to take the time to appreciate life's little pleasures and, above all, practice some self-love. It's not selfish. Really.
One way to do that, you knew this was coming, is to practice Face Yoga.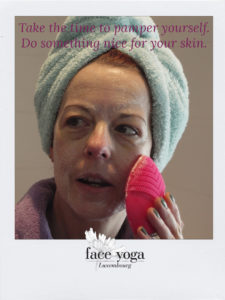 Face Yoga is not just about pulling a few faces (though it may look like that sometimes). With Face Yoga you are focusing, strengthening and retraining your face muscles. You are taking a break, however brief from the day to day obligations and releasing tension. You are getting air into your lungs and oxygen into your systems. And you are reminding yourself to sit up tall, open up to the world and embrace it.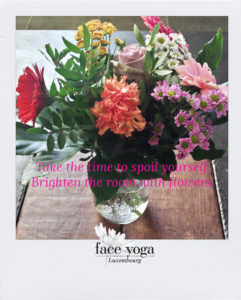 Even by repeating one pose, at any given moment in time, you are completely focused on you, what feels good to you, what is helping you to achieve your goal.
The subtle changes lead to more noticeable ones. You become more optimistic. You become more confident. And it shines on in all areas of your life – just like with body exercise, or loosing weight, or a flattering, new outfit, or a great vacation, or anything that impacts you favorably. Other people will take notice too.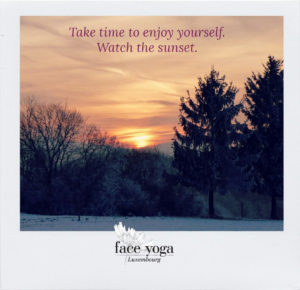 It's being able to look in the mirror and reconcile the real self with the ideal self. And realizing that you are fabulous. You have the power to bring about those physical and mental changes.
Our minds are prone to pay attention to what's wrong. Women especially are so good at finding the slightest flaw that no one else sees. So much of the world is focusing on the negative right now. Fight back.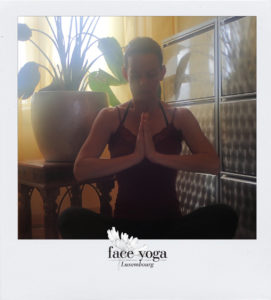 Tweak your lifestyle. There are so many yummy & healthy foods out there. So many products and home remedies that help your skin, your hair, your body, look their best. So many techniques to relax and unwind. So many things to enjoy, even on a budget.
The next time you're about to criticize yourself, pause. Practice self-compassion. Practice Face Yoga! Love Yourself!