What is Face Yoga?
Our faces are the first thing people notice about us.
What if there exists a simple and effective way to look more youthful and feel more confident ? There is – FACE YOGA !
We exercise the muscles in our bodies to get fit, and to look and feel both healthier and younger. We have over 40, small delicate muscles in the face too. Why not exercise them to achieve the same goals?
No matter how young we are or still feel, we can't stop aging. The effects of gravity, stress, our environment and our moods and habits all contribute to lines and wrinkles, thinning, sagging, discoloration and dullness and asymmetry in the face.
Face Yoga fuses facial movements with body postures and mindful breathing to counteract these factors. We can actually slow down the aging process and even reverse some of it's effects. This means we can start at any age and still get great results. And we can do it without spending our time and money on products, treatments or procedures. Face Yoga is 100% Natural.
In minutes a day, a commitment to Face Yoga exercise can :
Firm, Tone and Sculpt all areas of the face
Define the face line and cheekbones
Reduce and Prevent double chin, crows feet, droopy eyelids
Plump lips
Widen the eyes
Create symmetry (eyes, nose, cheek, mouth)
Smooth, Reduce and prevent nasolabial folds (lines on the sides of the mouth), lip lines
Improve complexion
Smooth and brighten skin
Regain elasticity
Flush toxins
Reduce puffiness, redness, dark circles
Reduce and prevent the appearance of lines and wrinkles
Rid the face of Tension
Reduce and prevent forehead lines and frown lines
Uplift the corners of the mouth
Control repetitive movements that cause lines and wrinkles
Smooth the under eye area
Create a feeling of wellness
See and feel physical changes
Give you more self-confidence
Help you take charge of your appearance
Result in clearer speech
Improve posture
Boost your mood
Have more energy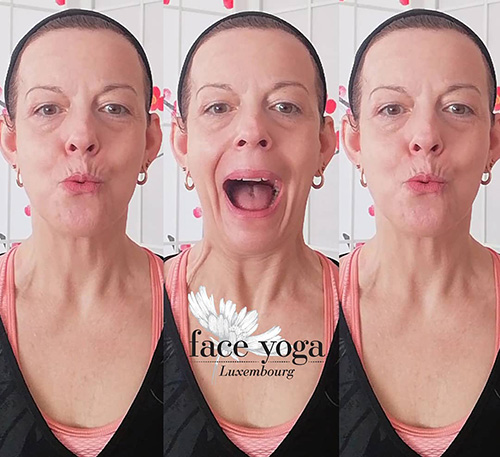 How does Face Yoga work?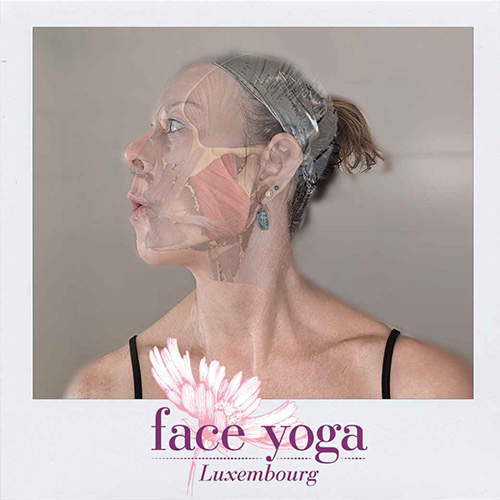 The Muscles
We have 43 small, delicate and flat muscles in the face (or up to 60 depending on how you count) that control our facial expressions. Unconscious, repetitive habits move the skin and help create lines, wrinkles, indentations and asymmetry. Face Yoga makes us aware of our bad habits and teaches us how to correct muscle movements and how to relax the muscles in order to soften, decrease and even erase facial lines and realign the sides of the face. Face Yoga exercises help build a strong foundation that supports the skin.
The Skin
Made up of 3 layers, the skin is the largest organ of the body. The outer layer, The Epidermis, protects the other layers. The middle layer, The Dermis, contains collagen (protein that supports the structure of the skin) and elastin (protein responsible for skin elasticity). The lower layer, The Hypo-dermis, is mainly used for fat storage. Our skin rids wastes and toxins from the body and our skin tone is a reflection of our overall health. As we age, skin function slows down. Collagen and elastin production decreases, contributing to lines and wrinkles. And cell turnover slows, affecting the appearance of our skin.
Face Yoga will not replenish collagen and elastin, but, the facial movements of Face Yoga exercises promote better circulation and more oxygen flow to the face and neck areas. More nutrients will reach the outer layers of the skin and result in a more healthy cell turnover and a firmer, more radiant looking, skin tone.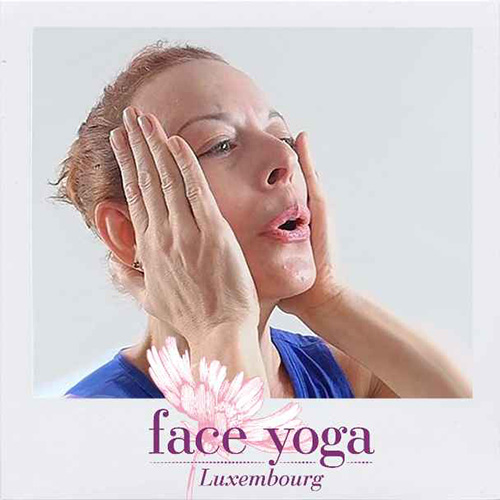 The Breath
Breathing plays an important role. Breathing increases our concentration and relaxes the body and the head and releases the tensions that show in our faces. Deep, mindful breaths increase the blood flow throughout the body and face, delivering oxygen and nutrients to the skin. Our skin looks better and we feel more positive and energized.
The Posture
Posture is our body's position when standing, sitting or lying down. Correct body alignment aids in breathing and circulation and keeping the spine healthy. It helps to adopt a positive attitude. Proper posture is also a factor in promoting facial symmetry. The Face Yoga exercises call attention to our posture and our habits, and help us to correct that posture and carry ourselves with confidence.
The Mind
The physical benefits of Face Yoga are many (firming, toning, sculpting, better skin, better posture, more energy, relaxation, stress relief). But the ultimate goal of Face Yoga is self-realization. The exercises help you to focus, boost your mood, and think more clearly. They give us the power to make positive changes. Our commitment and discipline gets us the results we want. The more we see changes, the more confident we become in all areas of our lives, even in the way we speak and express ourselves.
Let Face Yoga help you to Bloom Into You...
Want to know more?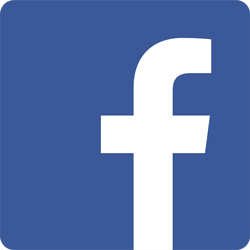 Check out my Facebook page
About Me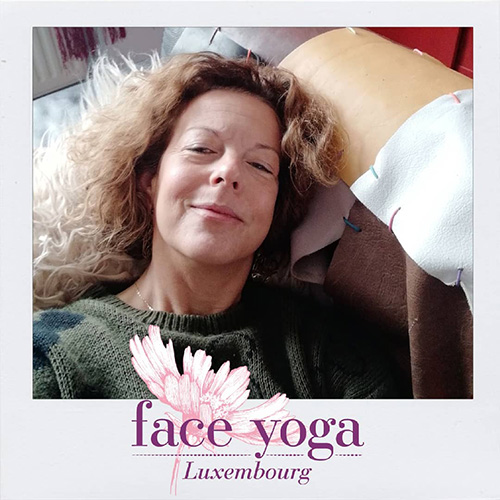 Hi, I'm Kim from Face Yoga Luxembourg.
How does a girl from Pittsburgh Pennsylvania, U.S.A. end up teaching Face Yoga in Luxembourg ?
First, I married a Frenchman who took me to different parts of France and Spain over the years, where I taught English to both adults and children in various language acadamies and Montessori schools, all while raising our son, and taking care of five cats and two dogs.
We finally landed here in Luxembourg. Time to kick back and enjoy a few years of much needed and much appreciated time off. Time to pursue language learning, drawing, fitness, gardening...The Life. Almost.
My 50th birthday was looming ahead and I decided that this was the year I would do something completely different. But What ?
I won't deny I wasn't happy with what I was seeing in the mirror or how I felt sometimes or with the idea of growing older while still feeling so young inside.
Christmastime 2016, Fumiko Takatsu, author, tv personality in Japan, and founder of The Face Yoga Method ® opened her first ever teacher training course, and I had a « WOW Moment. »
I want to do this.
This will help me feel and look better.
This will bring back my confidence.
This fits into my lifestyle.
This method is, easy, affordable and natural.
I will enjoy sharing this with others.
Face Yoga has enabled me to embrace the 5th Decade and shown me that you can feel fabulous at any age and regain that youthful confidence. You don't have to be perfect. This is what I want to share with you. I will help you to find the exercises that will benefit you the most and help you to find ways to fit them into your schedule and your lifestyle. I will accompany you, cheer you on and celebrate your successes with you.
I can't thank Fumiko enough for all her generosity, encouragement and sharing of herself and her method.
A wonderful group of ladies from all over the world accompanied me on this voyage. Their questions, input and feeedback have been invaluable.
Many thanks to my husband for his unconditional support, to Mee Ran for being my biggest cheerleader and to Alex, without whom this website would never have been possible.
I hope you'll join me on your own Face Yoga journey. I look forward to hearing from and meeting you.

Services & Pricing
Contact Face Yoga Luxembourg for a consultation. We will find the formula that works for you.
Individual and small group sessions are customized to meet your specific needs and concerns. You will benefit from a more personalized instruction, correction and motivation.
These sessions are available in bundles of 3 sessions or 5 sessions. The sessions are spread out over several weeks to give you the time to practice, and see and feel your results.
Themed workshops will be programmed by Face Yoga Luxembourg. Put your name on the mailing list for announcements and updates.
Classes can be held in English or in French.
Prices
| Type | Duration | Bundle of 3 | Bundle of 5 |
| --- | --- | --- | --- |
| Individual session | ~ 1 hour ½ | 120€ per participant | 185€ (15€ discount) |
| Small group session (3-6 people) | ~ 1 hour ½ | 90€ per participant | 135€ per participant (15€ discount) |
| Themed Workshops (min 6, max 10 participants) | 1 hour ½ to 2 hours | - | - |
Last updated 15/12/2019
Book a session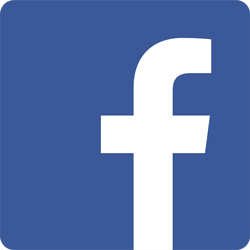 Check out my Facebook page
Testimonials / Before and After Photos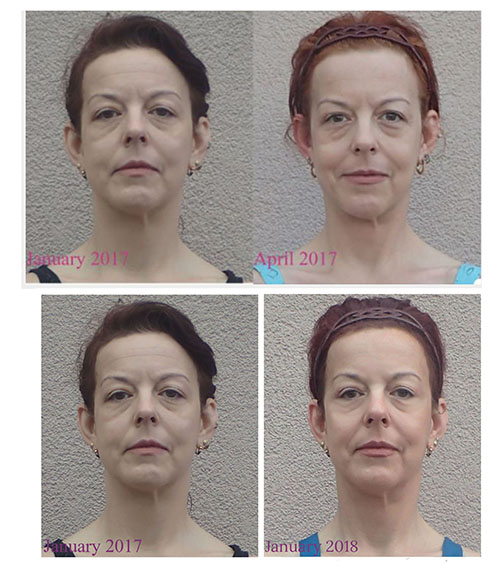 Photo courtesy of
faceyogaluxembourg.com
all rights reserved
I am my own testimonial. After 4 months of doing the Face Yoga excercises, the results are there. After 1 year, even better. When I compared the photos, I knew I had to resist the urge to concentrate on my more negative qualities. I look more rested, and happier, brighter and smoother. My body language is more open and confident as well, and I feel it too. Perfect? Never. But I'm really proud of what I have accomplished so far. Will I continue? Absolutely!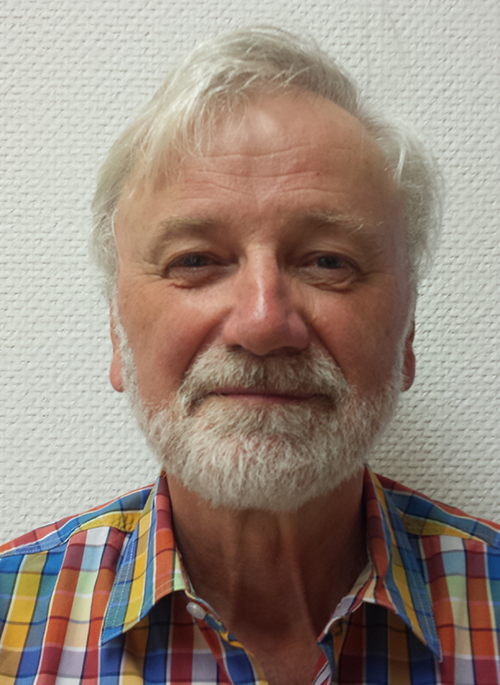 Private photo, do not distribute
At first instance Face Yoga sounded strange to me. But I decided to join the group just to see whether conscious use of face muscles will relax it. My short experience of 6 sessions confirmed to me such relaxation. Further, I learned to use my face parts not by bundles of muscles but by using only the muscles concerned. I already noticed the relaxation in the skin of my face. Now I only have to practice the exercise even in short breaks, e.g. traffic light stops, waiting queues, and any time I feel the need for it.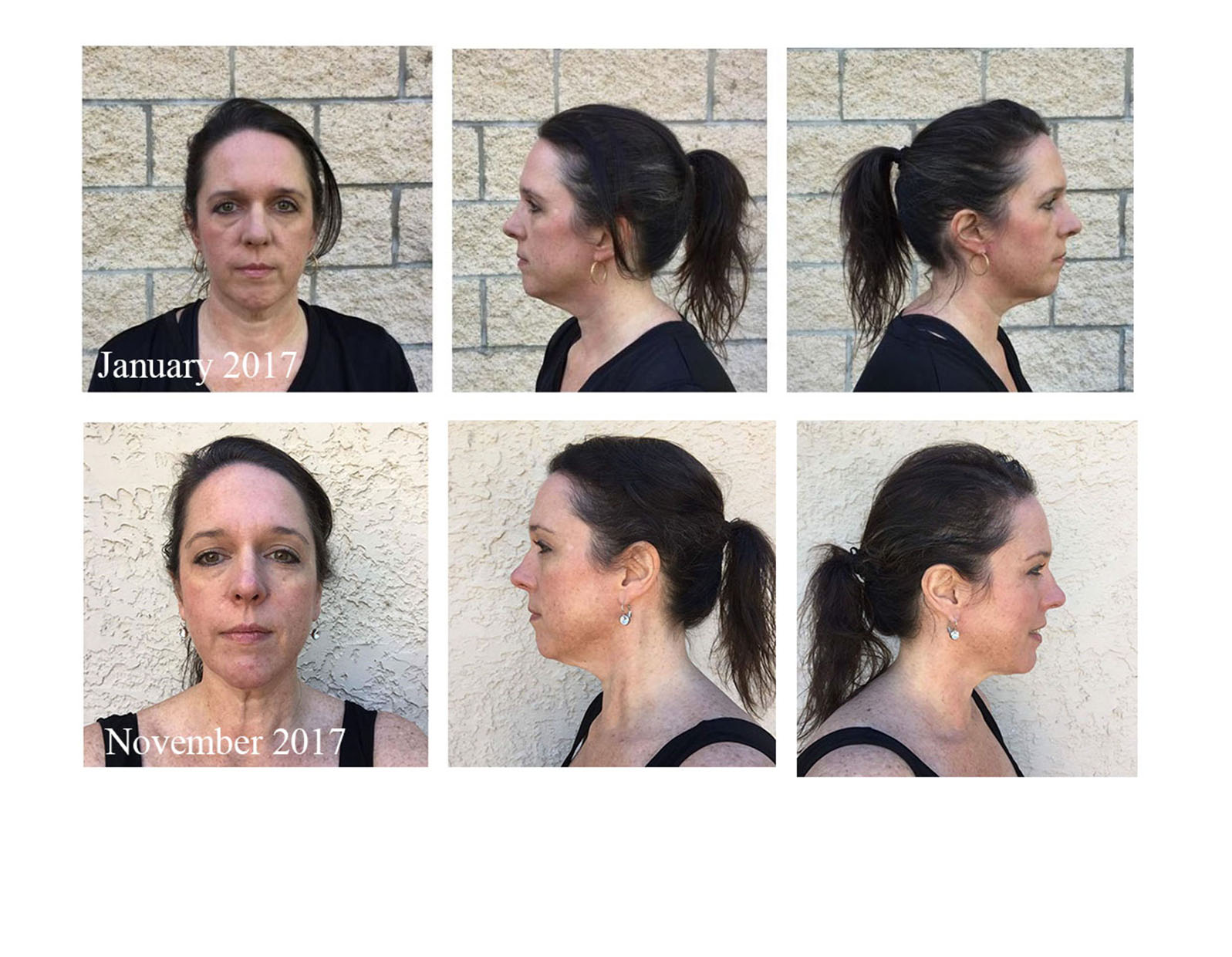 Photo courtesy of
faceyogaluxembourg.com
all rights reserved
I lost a lot of weight at the beginning of the year and was looking to tighten and tone my skin, especially around the neck and jaw. I can already see the improvements in my neck area. My cheeks are more round and my brows are more even. I've also learned some stress relieving exercises that I now practice daily. I can't wait to see what happens in the months to come.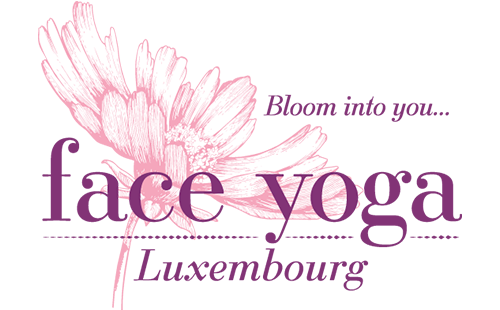 After practising Facial Yoga with Kim for over a year and a half, my face seems more flexible, the muscles tighter, less flabby.
Eye exercises have helped open my eyes wider. Kim also suggested exercises to strengthen lower face muscles, (I have an over bite and neck wrinkles) which have improved my jaw line. I can now align my top and lower teeth comfortably. I can even extend my lower jaw, bottom teeth slightly overlaping the top... Quite an advance !
When I started I was very diligent, practising 10/ 15 minutes morning and evening. I liked the toned feeling in my face afterwards. Kim provided a variety of exercises, increasing the difficulty, until they became familiar. I enjoyed the breathing and the feeling of relaxation in the whole upper body.
I have fewer sessions now, as I travel a lot. Routines suffer, but I always manage to do a few facial exercises every day. I fit them into my daily activities - showering, getting dressed, sitting, reading, washing up, even driving (with caution – no eye closing!). I do simple stretching for face and body. It has become part of my life.
Kim is a warm, inspiring teacher who explains exercises in detail and monitors progress carefully. She is patient and enthusiastic. The sessions are fun.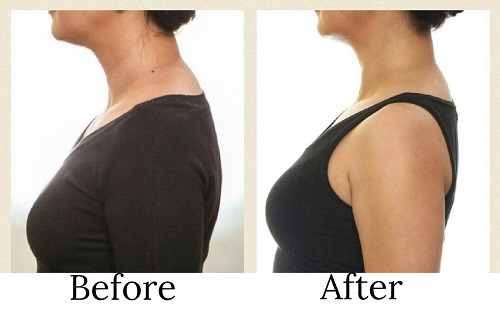 Photo courtesy of
facefitnessclub.com
all rights reserved
Before and after photos show how Face Yoga also helps improve your posture.
With these photos, I wanted to show that you can change everything you want.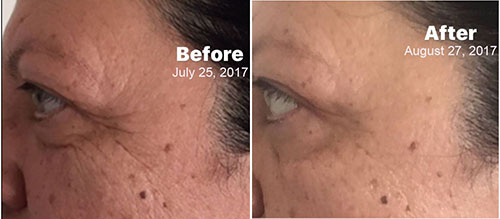 Private photo, do not distribute
The before photos were taken on the 25'th of July and after ones on the 27'th of August. Although many people ask me if I have lost weight, or they ask me if I have done something to my face, they say it looks better and shiny.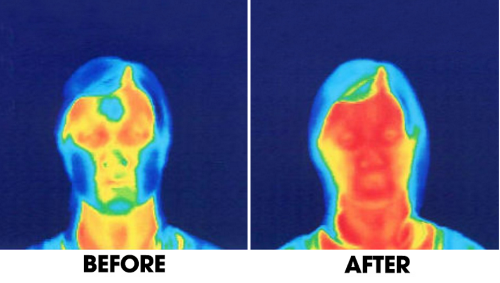 © 2021
faceyogamethod.com
all rights reserved
Good blood circulation is a key factor in achieving results with Face Yoga excercises. This thermal image photo shows the amount of heat radiating in the face after doing just one pose for three sets of ten seconds each.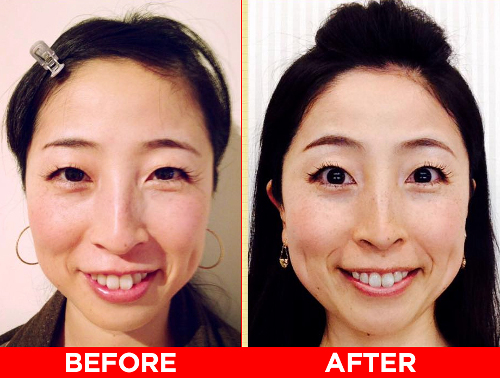 © 2021
faceyogamethod.com
all rights reserved
I have been doing yoga and I am always in a good shape but I totally ignored my face. I know how yoga practice changed my body so I had no doubt about the benefits of the Face Yoga Exercises. However, the results I got from the Face Yoga exercises are amazing! They are more than I had expected. I saw so many changes in such a short time!!!! And the results last longer than I had expected.
People noticed the changes on my face right away. Many have commented on my face that my face looks much slimmer.
I am skinny but face was not. My skin complexion got so much better. My smile became so natural. And even at work, I feel so comfortable and confident with my smile and I got some compliments on that too.
I cannot tell how happy I am to find the Face Yoga program. I cannot help myself but move my face muscle whenever I have a chance.
I am not afraid of getting older, and in fact, I am so looking forward to see my changes as I age.
Questions ?
Curious for more information ?
Find out how Face Yoga can help you and how you can fit Face Yoga into your lifestyle.
Don't wait, contact me now at:
or get updates directly from facebook :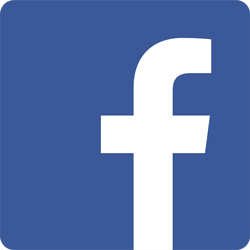 Face Yoga Luxembourg Facebook page
Stay in touch, get updates, find out about themed workshops and events by signing up to my newsletter below.